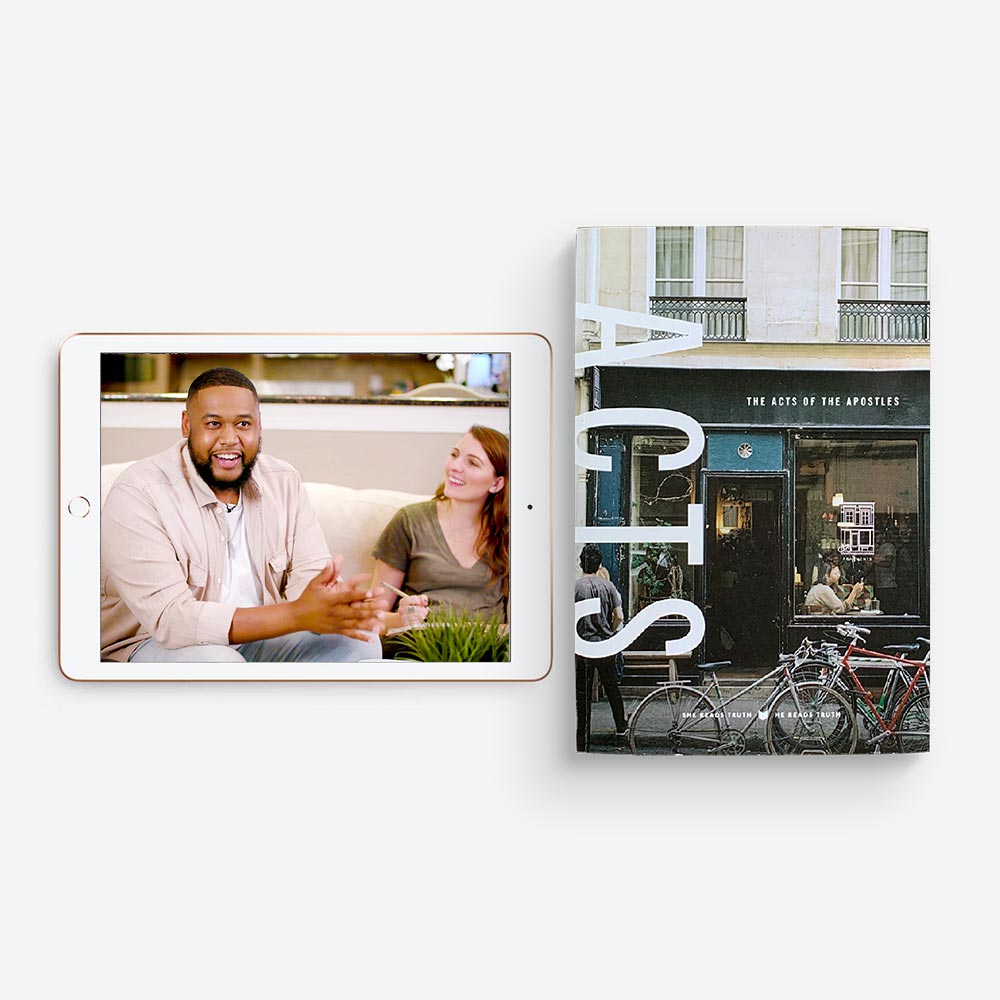 The Acts of the Apostles: Leader Kit
The birth of the early church is our story. This is where we came from, and it's where we are going. It's the story of how we are called to reach out, and how we are called to come together. In this study, you'll read through the entire book of Acts and discover God's big plan for His church. 
Acts is a seven-week study with daily scripture readings. There is an introduction week and six weeks of daily readings from Acts. Each week your group will meet for a video teaching and discussion.
The leader kit includes one Acts study, a digital downloadable Leader Guide, and access to the video curriculum.  
The Acts study includes:
Full scripture readings for each day.

Daily self-guided questions.

Two illustrated maps.

Five informative, historical essays that will set the stage for the people, geography, and culture in the book of Acts.

Six Weekly group study questions.

A Group Gathering Guide with six hymns and three recipes you can use during group time.

Six scripture mini-cards perforated in the back of the book to aid in memorization of the Weekly Truth verses.
Weekly Reading Overview:
Week 1: Acts 1 — Acts 5:11

Week 2: Acts 5:17 — Acts 9:31

Week 3: Acts 9:32 — Acts 13

Week 4: Acts 14 — Acts 17

Week 5: Acts 18 — Acts 23:11

Week 6: Acts 23:12 — Acts 28
Weekly Teaching Video Summaries: 
Week 1 — The Trial:

We'll break down one of Peter's first sermons in Acts 4 to view hardships in our lives as an opportunity to depend more on Christ. When we face opposition, it is an opportunity to let Christ fight our battles for us.

Week 2 — Evidence of the Spirit:

In Acts 6 we hear the story of Stephen, the first martyr of the Church. We'll see proof in the book of Acts that when God is on the move in our lives, it often looks like struggle.

Week 3 — What is your inheritance?:

We were all given an inheritance when Jesus left and went to heaven. If we can learn to invest what Jesus left for us, we'll see the fruit of God in our lives.

Week 4 — Open Doors and Loose Chains:

Learn from Paul and Silas' example of what they didn't do when they were thrown into prison. Just because they weren't physically free didn't mean they didn't have freedom. There's a difference between being free and living free, and it starts with a choice.

Week 5 — The Battle Within:

Know what to do when facing resistance. When we view challenges as an indication that God wants to speak something to us or do something through us, we are able to walk through our situation with hope.

Week 6 — Portable Purpose:

While we often wait for the perfect conditions to believe God can work in our lives, we don't have to have everything perfect before we see what God can do through us. He can work in any situation we are facing — even the most difficult ones.